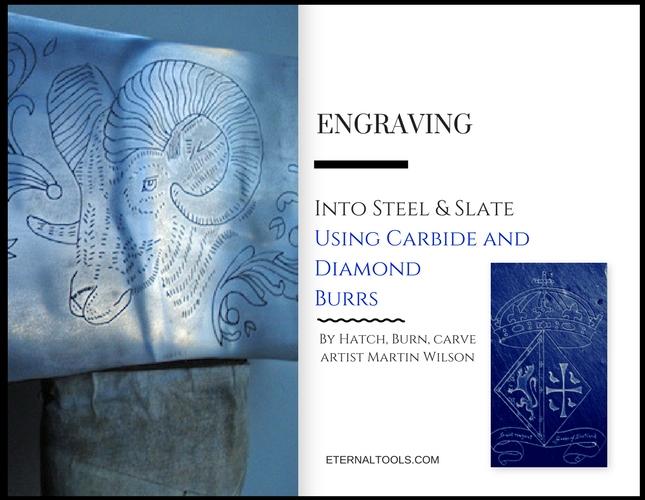 Martin Wilson of Hatch, Burn, Carve is well known as a slate and stone artist and crafter based in the Scottish Borders.
All of the pieces he creates are mostly recycled, reclaimed and found on his travels around the UK.
They are all carved freehand in his workshop using a variety of Dremel, Foredom and Proxxon tools with carbide burrs and diamond burrs, as well as traditional hammer and chisel.
Turning his hand to metal, Martin has engraved Motorbike engine castings and more recently, a steel axe head for an exhibition using an assortment of Eternal Tools small carbide ball burrs. The axe head exhibition piece was in collaboration with a fellow artist/friend; Eben Rautenbach. Eben created the design and Martin carried out the engraving on the steel (design © Eben Rautenbach)
For engraving steel Martin found the 0.5mm small carbide burrs to be ideal, using a total of seven burrs to complete the design. He also recently used the same burrs on a brass plaque with great success.
"I've been using these carbide burrs on a variety of materials. They engrave brass with ease and I was pleasantly surprised at how well they coped with hardened steel"
Click here to give our Small Carbide Burrs a try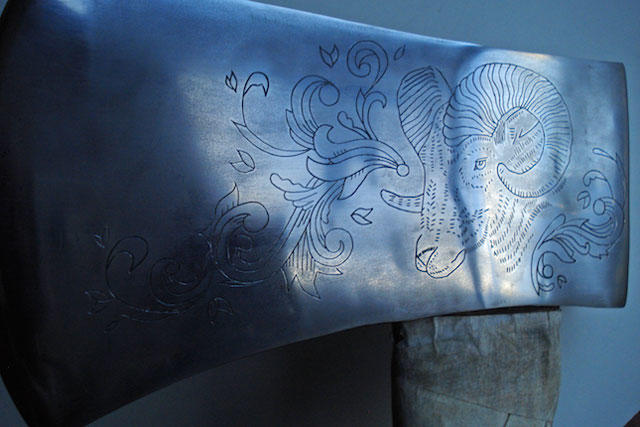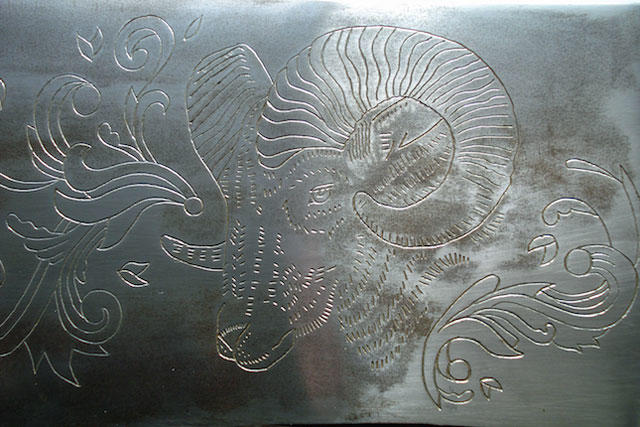 Carbide burrs need to be used at high speed. No lubrication is necessary.
Diamond Burrs should be used at a slow speed with water as lubrication.
The St Margaret's Chapel Guild presentation plaque below was carved using Eternal Tools diamond burrs.
The slate used for the plaque was from the re-roofing carried out on the chapel in the mid-1800's. The Coat of arms measures 20cm high and the lettering on the scroll was 3mm. The small diamond ball burrs were essential in the carving of the plaque
"The small diamond ball burrs were fantastic for carving the St Margaret's Chapel plaque. I've been using diamond burrs for many years, but these are the best! They stay sharp and true for a long time and carve slate with ease"
Click here to give our Small Diamond Burrs a try
To take a look at more of Martin's work, including his Buddhist mantra and symbol stones, please visit his Facebook page, or you can follow him on Instagram and Twitter (@hatchburncarve)