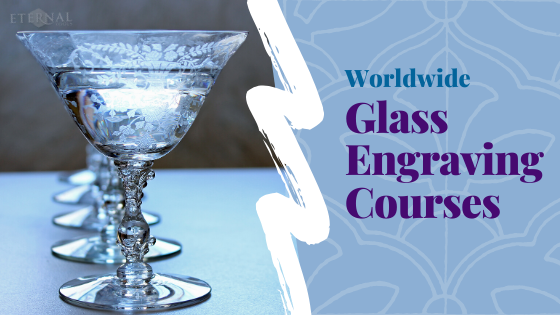 Glass Engraving is the art of using a tool to mark the surface of glass. There are many techniques and tools with which to do this, and many highly skilled glass engravers to learn from. You may be a beginner, an improver or a professional, but there is always more room to expand upon your skills.
Eternal Tools have put together a list of some of the finest Glass Engraving courses and schools around the world to help you decide where to study these wonderful skills.
Click here to buy your Glass Engraving Tools


Glass Engraving Courses in United Kingdom

1. Morley College, South East London
Courses here at Morley College taught by Katherine Coleman are for all skill levels. Each course is 30 hours, 10 weeks on Monday Mornings. By the end of the course you will have an understanding of the many different techniques such as diamond point, drill engraving and wheel engraving, as well as the history, the tools, which glass to use and the different effects you can create such as stipple, intaglio and relief and surface engraving.
Website: https://www.morleycollege.ac.uk/courses/13666-glass-engraving/13009


2. Richmond Art School, RHACC
Monette Larson teaches an 11 week 'Creative Glass Masterclass' here at Richmond Adult Community College. Students are required to have experience in kilnformed glass. A range of techniques will be demonstrated which may include core casting, slumping, fusing, pate de verre and cold working methods such as engraving, sandblasting, cutting, grinding and polishing.
Find out more about all of the Glass courses that Richmond Art School have to offer here: https://www.rhacc.ac.uk/search/type/course/subject-area/art-design-media-56/subject/studio-glass-118


3. Eastleigh College, Hampshire
Suitable for all skill levels, Eastleigh College in Hampshire provide fortnightly glass engraving courses tailored to the needs of the student. Beginners will be introduced to hand engraving, then drill engraving. More experienced engravers will be given guidance in their specialist areas to hone their skills. Diamond burrs, abrasive stones and polishers are some of the tools the students will be taught how to use.
The courses are taught by highly respected glass engraver, Tracey Sheppard. Accepted as a Craft Member by the Guild of Glass Engravers, Tracey has been teaching glass engraving at Eastleigh College for 35 years.

Website: https://www.eastleigh.ac.uk/leisure-courses/creative-crafts/course-listing/glass-engraving-all-levels-part-time-leisure/


4. Dorset Centre for the Creative Arts
The regular courses run here are taught by Viv Marshall, an Associate Fellow of the Guild of Glass Engravers. With over 30 years of experience she will guide you through the art of Glass Engraving and help you with the type of glass you'll need, how to prepare it and the tools required. Surface and Intaglio glass engraving will be covered. No previous experience is required.

Website: http://dorsetcentreforthecreativearts.co.uk/glass-engraving-an-introduction-3/

Guild Chairman, Robert Page will be teaching at Durlston Country Park, Near Swanage on Sunday 10 November and Sunday 8 December. These are 90 minute courses intended for beginners - go along and make some glass engraving gifts. Costing £10 per session.

Website: https://www.durlston.co.uk/
Contact No. 01929 424443

6. Patricia Hilton-Robinson, Cornwall
Patricia will resume teaching in April/May 2019. She teaches Drill Engraving, Cameo and Graal techniques.

Website: https://www.hilton-robinson.co.uk

7. Emotive Glass, Devon
Steve Lee Glass Engraving offers 6 hour classes for beginners to advanced in the comfort of your own home, or at a venue in Tavistock, Devon. Each course is £90.

Website: http://emotiveglass.com

8. Lesley Pyke Glass Engraving, Suffolk
Lesley offers fun sessions in her studio learning the basic technique of diamond point engraving on glass. Learn to create simple lettering, and decorative images. No previous experience is necessary. Class sizes consist of approximately 7 students, but one to one, full or half day classes are also available where you can learn the art of drill engraving. Lesley's Youtube channel also offers informative step by step engraving tutorials.

Website: http://www.lesleypyke.com

9. The Glass Hub, Wiltshire
The Glass Hub is an educational centre based in Wiltshire providing extensive glass-working facilities and courses to students of all abilities. A highly qualified and experienced team of tutors are there to teach the craft of glassmaking. Courses include fusing, slumping, kilnworking, Graal, glass blowing, lampworking, sandblasting and casting, and occasionally engraving.
Website: http://www.theglasshub.co.uk

Based in the beautiful setting that is The Red House Glass Cone, Charlotte Hughes-Martin teaches regular glass engraving classes for all levels. Learn to engrave on flat glass, and create a personalised drinking glass to take home.
All materials and tools are provided. No previous knowledge is required.
Website: hhttps://www.creativecone.co.uk/

11. West Dean College, Arts & Conservation. West Sussex
Tutors Tracey Sheppard and Nancy Sutcliffe both run courses here at West Dean. Explore the various glass engraving techniques and learn to experiment with a variety of tools to achieve different textures, tones and colour in your glass. Courses are available for all skill levels and those new to glass engraving.
Website: https://www.westdean.org.uk/study/short-courses/courses?type=short&category=Glass+and+mosaics

12. North Lands Creative, Scotland
North Lands Creative is an international centre of excellence dedicated to the study and development of glass as an art form.
The studio offers facilities among the most sophisticated in Europe, and attracts artists from all over the world to undertake classes in engraving, glassblowing, kilnforming and flameworking led by master artists and crafts people.

Website: https://northlandscreative.co.uk/



Glass Engraving Courses in Europe
13. Wheel Engraving Course in Waterford City, Ireland
Greg Sulliavn will be teaching wheel engraving using stone and diamond wheels to carve 'in depth' imagery into the glass surface. Students will be challenged to 'go deep' with complex figurative designs that make use of and explore how the light and depths are related in intaglio engraving. The course is limited to 4 students and is aimed at wheel engravers with an established skill set. Course dates are April 20th to 24th 2020 inclusive, 9am to 5pm in St.Patrick's Gateway Centre in Waterford.
For more details please mail greg@arenacrystal.ie or phone 00353 (0)872618941


14. Bild-Werk Frauenau, Bavaria. Germany
Bild-Werk Frauenau is an International Summer Academy for glass and fine arts in the glass making village Frauenau in Bavaria, Germany. Professional artists as well as ambitious art enthusiasts from all over the world come here to learn the many hot and cold glass working techniques with renowned artists and tutors such as Ioana Stelea, Alison Kinnaird and Jaroslav Šára.

Website: https://www.bildwerkfrauenau.de

15. Glass Furnace (Cam Ocagi), Turkey
Glass Furnace is Turkey's largest and best-equipped glass art facility. Intensive Summer courses and daily workshops offer a myriad of glass techniques. For more information contact: info@camocagi.org

Website: https://www.glassfurnace.org/

16. Ways of Glass (Cesty Skla) -School of Jiří Harcuba, Czech Republic
Learn the art of glass engraving at the School of Jiří Harcuba set within the Cesty Skla Building. The late Jiří Harcuba, was an outstanding Czech sculptor, glass artist and world famous glass engraver. Superior glass engraver Pavlína Čambalová runs the foundation and the regular courses there.

Website: http://www.cestyskla.cz

17. Czech School of Glass, Kamenický Šenov, Czech Republic
The oldest glass school in Europe, founded in 1856. The Glass engraving department is one among four other glass departments. Students from all over the World will learn to engrave glass using copper wheel, stone and diamond tooling. Designs are engraved onto glass objects and stained glass with the help of various techniques including sandblasting, cutting or melting. There is accommodation on site for international students. For further information, contact: supss@supss-ks.cz

Website: http://www.czech-glass-school.com, www.czech-glass-school.cz

18. Vanessa Cavallaro, Savona, Italy
Vanessa will guide you through the preparatory work of drawing your design and teach you how to engrave glass using stone wheels, how to maintain the wheels, and how to polish with cork and pumice wheels. For beginners she can also offer courses in drill engraving using a Dremel or a Micro Motor.

Website: https://madineurope.eu/en/courses-of-wheel-engraving/
Contact: info@vanessacavallaro.it

19. KADK, The Royal Danish Academy of Fine Arts, Denmark
The School of Design's Craft Programme - Glass and Ceramics, in Bornholm is a small, but leading educational facility in the fields of glass and ceramics.
The glass workshop has kilns for processing hot glass, sanding, wax/Gelflex space for the processing of moulding materials, window glass and engraving.

Website: https://kadk.dk/en/workshop/glass-and-ceramics-workshop-bornholm



Glass Engraving Courses in United States of America

20. Corning Museum of Glass, New York
The Corning Museum of Glass is a non profit museum dedicated to telling the story of glass. Annually welcoming just under half a million visitors, the Museum is one of the top glassworking schools in the world. There are regular courses taught by the likes of Kathy Elliot, Max Erlacher, and Denise Stillwaggon-Leone for Cold working techniques in glass engraving and sandblasting.

Website: https://www.cmog.org/glassmaking/studio/classes

21. Pilchuck Glass School, Washington
Pilchuck Glass School is a non-profit organisation that prides itself on educating a worldwide community in the creative use of glass in art and design. The campus is set in the high foothills of the Cascade Mountains, an hour north of Seattle. There are summer programs and other courses throughout the year, join their newsletter to receive notifications. Classes are on a first come first serve basis.

Website: https://www.pilchuck.com/



Glass Engraving Courses in Japan

22. JDMIS Dominic Fonde, Kobe
Dominic runs private lessons and group workshops in the technique of drill engraving, Classes are taught in English at his home studio in Kobe, Japan. Each lesson is two hours long and all materials and tools are included.
Contact: dominicfondeglass@gmail.com




Glass Engraving Courses in Australia

23. Australian National University, Canberra
The Glass Workshop provides courses and facilities to prepare students at both undergraduate, honours and postgraduate levels. The workshop includes a fully equipped studio with extensive hot and cold working glass facilities such as NSK air engravers with dedicated engraving tables, A Spatzier engraving lathe with stone and sintered diamond, and felt wheels.

Website: https://soad.cass.anu.edu.au/disciplines/glass

24. Canberra Glassworks, Kingston, Canberra
Canberra Glassworks offer workshops and short courses in glass blowing, engraving, casting, kiln forming, flameworking, beadmaking and more. All materials are provided and included in the course fee. Their glass engraving course will teach you how to mark and hand-engrave the surface of glass using age old techniques.

Website: https://canberraglassworks.com/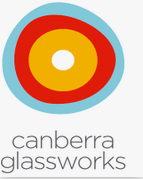 ---------------------------------------------------------------------------------------------------------------------------------------------------------------------------------------------------------
We would like to thank the institutes and course teachers for allowing us to showcase their glass engraving education programs.
The list is still expanding so if you know of any courses, classes, workshops or educational institutes that you think should be listed here, we'd love to hear from you, please get in touch.
Click here to buy your Glass Engraving Tools
Further Information
The Guild of Glass Engravers - Founded over 40 years ago, the guild provides a wealth of information on all aspects of glass engraving and provides a forum to enable individuals to discuss techniques and new developments.
Contemporary Glass Society - The CGS now has over 950 members interacting and networking with fellow glass artists around the World.
The Glass Society - Formed to promote all aspects of glass and the making of and increase public awareness of the art of glass.
Available Books:
Techniques of Glass Engraving by Peter Dreiser
Engraving Glass, A Beginners Guide by Boyd Graham
Engraving and Decorating Glass By Barbara Norman
A Beginners Guide to Engraving Glass By Seymour Isenberg
Glass Engraving Pattern Book by John Everett
Lettering on Glass by Charmian Mocatta