Glass engraving is an art form that has been around for thousands of years, and one we're pleased to say has become increasing popular ever since.
Anyone with a creative streak can have a go by using a small selection of diamond burrs in a pin vice or a rotary tool. What may start as a fun hobby can quickly turn into a dedicated skill, leading you into more advanced techniques and further tools.
There are several ways to engrave glass, lets take a look at them and the tools and techniques they involve. There's a glossary at the end too to help with any words you may not be familiar with.


1) Hand held Pin Vice with a Diamond Burr
This is by far the cheapest and most simplest method of glass engraving and one which is great for the absolute beginner who may want to try out their skill before buying a rotary hand drill such as a Dremel with flexible shaft or a Micro Motor.
Teaching groups and classes will often use this technique as it is cost effective and no electricity is required. Similar tools can be used for stipple engraving which is mentioned further on, and any linear engraving can be done by using a pin vice with a diamond point burr.
Tools Needed: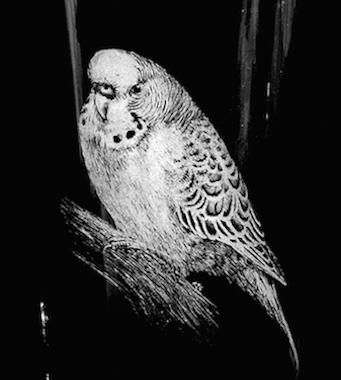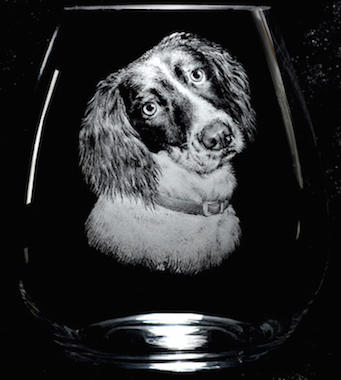 The above glass engravings by Alan Sinclair are examples of fur and feathers engraved on glass using a diamond point burr in a Pin Vice.
2) Drill Technique
This technique is the most popular and versatile, allowing you to use any number of different burrs, points, stones and polishers in either a Micro Motor or a drill with a flexible drive attachment
Beginners tend to use a hobby rotary tool such as a Dremel, then progress to adding a Flexible shaft, or flex-shaft attachment. This allows you to hold the handpiece as you would a large pen.
Finally, once you've really caught the glass engraving bug, move onto the more expensive and superior of tools, a Micromotor such as the Medicool Pro Power - a professional dental drill that has no vibration, almost no noise and among many other attributes, a very light handpiece, so no more aching wrists!
Rotary tool options:
The drill technique involves grinding away the glass by using a variety of diamond burrs, stone burrs and polishers.
With so many different shapes and types of diamond burrs, and the huge variety of stone burrs and polishers, it can be difficult to know what to buy to begin with. Essentially you could start by buying one diamond ball burr to begin practicing with and then move on to adding shade and effects with further stone burrs and polishers. This is when a kit such as the following one is great for the beginner, ensuring you have a small variety of everything you may need to begin with:
It should be noted here that if you are using a hobby rotary tool you will need to make sure it has an adjustable chuck. The shank of most burrs and mandrels will be 2.35mm in size (3/32 inches)
For instance if you are using a Dremel rotary drill or Dremel Flexible shaft you will need to purchase the Dremel Multi Chuck as well. This small chuck closes from 0mm - 3.4mm in size.
For help on how to use the individual attachments take a look at our previous article '5 Essential Beginners Glass Engraving Tools'
Helpful tips on the drill technique:
Keep a bowl of water nearby to wipe away the dust from your work every once in a while, or a spray bottle with water in. Alternatively make your own water drip feed system. The diamond burrs need to be kept lubricated with water to prevent them from overheating. Overheating will cause the diamond grit to fall off, burn away (they burr will turn brown) or wear away quicker. Overheating can also cause the glass to crack.
Safety notes for the drill technique:
Using a drill to engrave causes dust to fly around so it is imperative that you wear a dust mask. It's also advisable to wear long sleeves and make sure you have no flowing items of clothing on such as scarves or baggy sleeves, equally, no long jewellery chains or long hair that could potentially get caught up in the drill cord or rotary burr as it's whizzing around. Wear goggles at all times.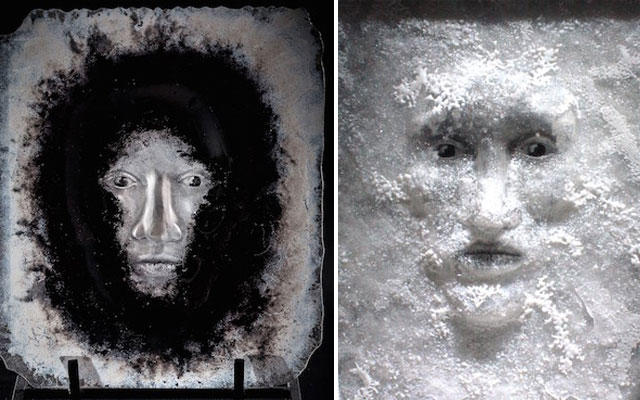 The first of the above two images by Guergana Sabkova is entitled 'Awakening' and is a combination of the Drill technique with Sand Blasting. The second image 'The Frost' has been drill engraved into a combination of fused glass. Guergana uses various combined techniques for her finished engravings. Take a look at more of her work on her website: Reflexion Glass
Take a look at the work of Nancy Sutcliffe, Susan Bloch and Margot Jacobs in our article '9 Brilliant Examples of Glass Engraving to Inspire You' to see further examples of the drill and sand blasting techniques.
3) Copper Wheel
Copper wheel engraving is a traditional technique often used for cut glass crystal designs. Differing sizes and profiles of copper wheels mounted onto spindles are driven by a belt on a lathe. The wheel is turned by use of a foot pedal and the wheel is fed with an abrasive compound such as carborundum. The glass is brought to the wheel to make the cut.
Nowadays, stone and diamond wheels are more commonly used and are driven by an electric motor instead of a foot pedal.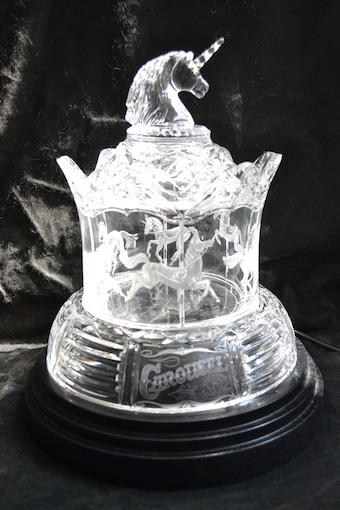 The above image by Greg Sullivan is of The Unicorn Carousel and has six unicorns copper wheel engraved around it. There's also some diamond point work (the lettering and smaller imagery on the lid). When plugged in, the base remains stationary but the unicorn's rotate.
To view the assembly video of the engraving take a look at Greg's facebook page.
4) Sandblasting
Sandblasting is sometimes known as sand carving or sand engraving. The areas of glass not to be engraved will be covered with a masking material then a fine grit abrasive medium is 'blasted' at high pressure onto the surface of the glass.
Skilled glass engravers will use hand-cut stencils and a mixture of techniques such as sandblasting with the drill technique to create some very interesting results.
Quite often the sandblasting technique is used on an industrial scale for mass productions of glass designs.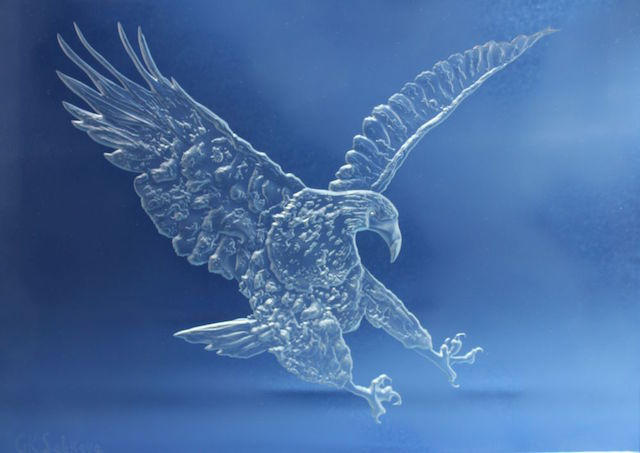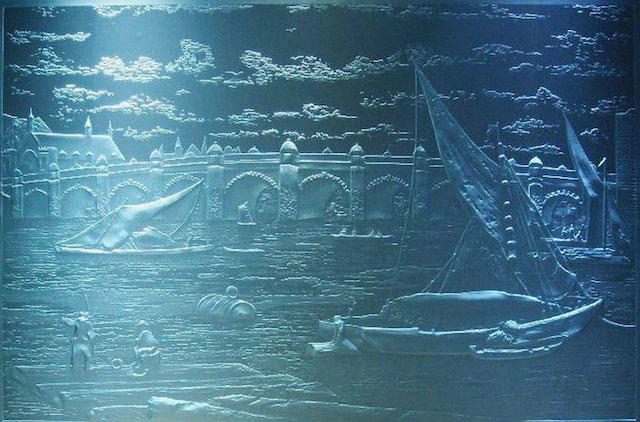 The above two images are 'The Dreaming Duck' and 'The Bridge' both by Guergana Sabkova.
5) Stipple
Stipple engraving is a technique that requires a lot of patience and skill. The pattern on the glass, lead crystal ideally, is made using repetitive tapping from a carbide point to creative small indentations or dots. The resulting picture leaves a misty look.
Carbide points are more commonly used as they can be re-sharpened and leave a clean cut, but a diamond burr or point can also be used for the beginner stipple engraver
The tungsten carbide point is held in a pin vice or stylus of some kind.
Tools Needed: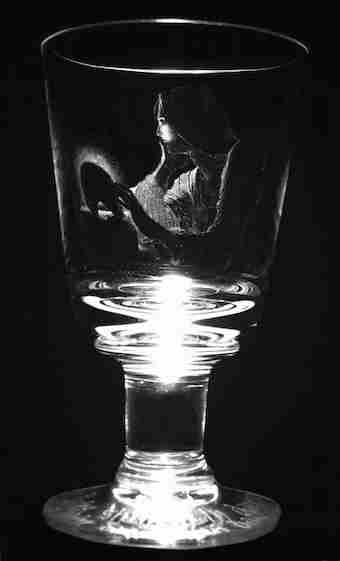 The above is an example of stipple engraving done by Junko Eager entitled 'Mary Magdalene', The inspiration for the piece was taken from the 18th century French painting of De la Tour. The stippling was done on a Dartington crystal goblet. To see more of her work, visit Junko's website: Junko Eager: Glass Engraving Artist
Laser Engraving
As the name suggests, laser engraving onto glass is done with a laser which burns your design onto the glass. This method is often used for large scale orders where duplication of the image is necessary; company logos and merchandise items for instance.
Etching
Strictly speaking, etching is not a form of engraving but one where an acid paste and a stencil is used to create a matt finish on the glass. You can buy ready made etching stencils or you can use a scalpel to cut out your own stencils in adhesive paper. Acid etching and engraving combined can produce some interesting results.
Glossary:
A Burr (Bur) is a cutting tool with a shaped end. Diamond Burrs (Sometimes referred to as diamond points) come in many shapes and sizes and with varying grades of grit. The finer the grit, the smoother the finish. A diamond burr consists of the working end (this is the shaped cutting end you will use to engrave the glass) and this is made up of diamond particles, or grit, which is bonded to the metal shank.
The shank (or shaft) is the end of the tool that goes into your drill, chuck, pin vice or rotary tool hand piece.
A Chuck is an attachment for holding a work-piece or tool in a machine (such as a drill or lathe)
Rotary tool (Rotary Drill) An electric drill that rotates tools or attachments.
A Mandrel (spindle) in the case of glass engraving and jewellery tools this is the mount or attachment that fits into your chuck or drill. Unmounted polishers and abrasives are threaded or screwed onto a mandrel and then inserted into a drill, either directly or into a chuck.
----------------------------------------------------------------------------------------------------------------------------------------------
Helpful Links
Shop for your Glass Engraving Tools
Read this helpful article: 5 Essential Beginners Glass Engraving Tools
Join The Guild of Glass Engravers
Learn the the art of Glass Engraving at Richmond Adult Community Courses, West Dean College and Morley College