To get into the Christmas spirit, a couple of us went along to see some of the talented craftsmanship at the Living Crafts event held at Blenheim Palace, just outside Oxford, UK.
We popped along on the first day and already it was bursting at the seams with eager shoppers and those with a keen eye for crafts.
Showcasing 150 British designers and makers, along with some food and drink merchants, there was a high standard of crafts from jewellery, ceramics, glass art, wood and textiles.
Some particular stalls caught our eye, the first being Bob Emmett's Snail Pottery. A ceramics company based in Lincolnshire in the UK.
Their display of Intricately pierced and drilled candle holders and vessels were beautifully crafted. Each hole is drilled by hand with a rotary tool and the finished effect is delicate and eye catching. We were very impressed.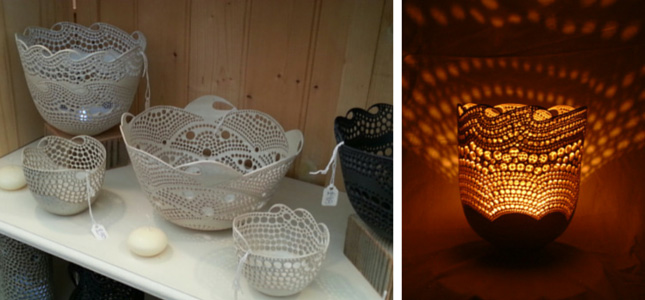 Judith Swannell Ceramics was another eye catching display. The deep and vibrant glazes used in her stoneware went from a gorgeous attack of turquoise to blood red and pure white making her array of jugs, mugs, bowls and dishes stand out from the crowd.
We stopped by Raven's Stained glass stall to admire her glass terrariums, decorations and sun catchers. Her wares were decidedly festive and cheery!
It was nice to meet Glass ReForm, a company we've admired for a long time now. Based in Devon. They pride themselves on their 'Glass with a green footprint'.
They have a wide range of handcrafted, upcycled and recycled glass bottles, and it was great to see the many creative things they make with bottles that are destined for landfill.
---
So, another good day out for Eternal Tools. We met some customers, met some old friends, made some new friends even, and chatted to lots of crafty and creative people.
Next on the list...The Cock Pit Arts, Christmas Open Studio's in London from 28th November onwards.