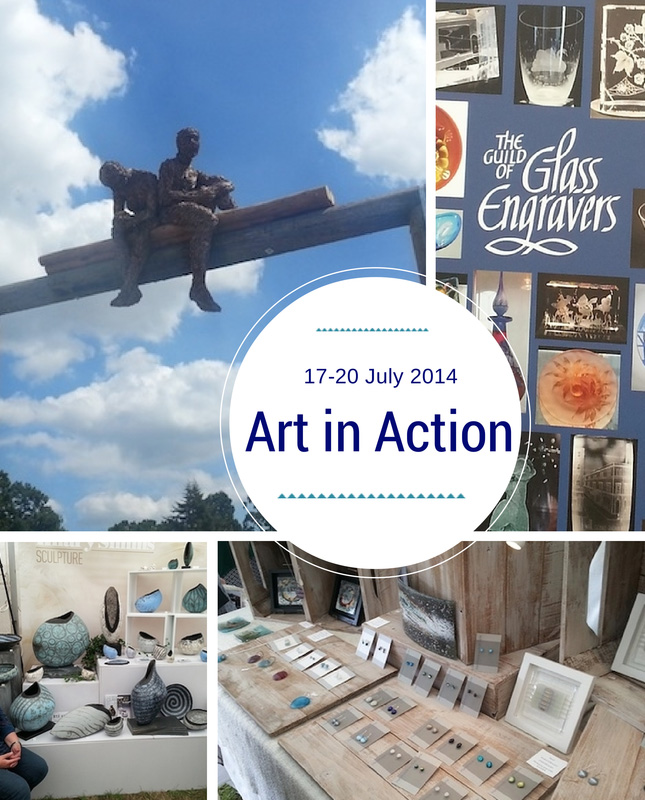 Art in Action held at Waterperry Gardens, Oxfordshire, took place over 4 days and showcased some of the best influential and emerging talent.
The day was a scorching hot one and I felt for the stall holders and exhibitors under the canvas tents. As for the glass blowing demonstrator, he gave an excellent tutorial class even with the added heat of the burning furnace next to him. Top marks to you sir!
I was delighted to meet and greet with the likes of Rob Page from the Guild of Glass Engravers, there to demonstrate and teach the skillful art of glass engraving. Their stand and presence there was a welcome one and I hope it inspired some new emerging engravers.
It was an inspiring day and a great opportunity to chat to the artists and talk to them about their work. There was everything there from painters to printmaking, from textiles to toys and from calligraphy to ceramics - something for everyone.
The Market Tent was an expensive visit! Note to myself: take plenty of money next year as this tent is filled with unique and tempting gifts to buy!
On a personal note, it was great to finally meet some of our customers who use our tools, plus artists I had known about but had yet to meet.
I was pleased to say hello to Ruth, one of our featured, interviewed artists back in June '14 from Ruth Lyne Contemporary Glass. Her stand of coastal inspired glass jewellery, wall plaques, platters and coasters looked amazing. The light wooden display stands and boards really showed off her pieces very well. Here's Ruth with her stand and her work:
With over 100 designers and makers, there was lots to see and people to chat to. Some of the artists who stood out for me in particular were Karlin Rushbrooke's, mouth blown studio glass, Hilary Simms ceramic sculptures, Bruce Aitken the Clockmaker with his wooden crafted pendulum clocks, and of course, the many fantastic jewellers and silversmiths who were there.
Hilary Simms - Ceramic Sculptures 'Nautilus Collection'
Karlin Rushbrooke
The art show has been going for 36 years which means I've been missing out on a great event for far too long now. If like me you've not been before I highly recommend it. It's great if you're an artist as there's plenty of inspiration, not only for your personal work but also ideas for exhibition stands and displays. Plus it's the perfect opportunity to get involved in a hobby you'd never thought of doing before by participating in one of the classes (get there early however to ensure a place on the class you want to do)
Thanks Art in Action for a great day out and see you again next year!