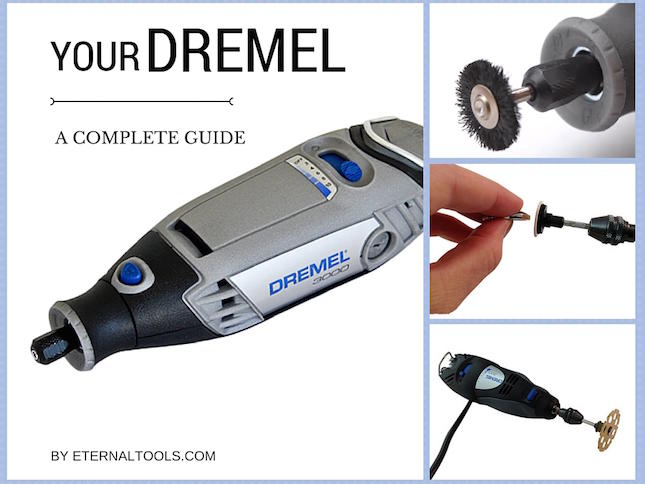 What is a Dremel Tool?
Over the years I've collected numerous amounts of handy hobby tools, all of which are useful and they all have their own purpose, but there is one tool that is probably more useful than most of the other tools put together and that of course is the Dremel Multi Tool.
There are many models of Dremel that shine through, notably the 3000 and 4000, but I have two Dremel 3000's that I love, so this is the particular model that I'm referring to in the following guide.
Higher RPM, torque, and popular with hobbyists
The Dremel 3000 in particular is popular with many hobbyists due to being lightweight and user friendly all around the house, studio, workbench and workshop. I recommend choosing a corded one rather than a rechargeable model. With a higher Speed (RPM) capability, and higher torque it shines through. Also, If you're anything like me you may come to use your rechargeable Dremel multi tool and realise you forgot to recharge it - oops!
Hook to hang it up with, ideal to use with Dremel Flex Shaft
The cable is permanently attached and the power cord is about 6.5 feet long. There's a hanging hook on the back so you can put this on a Dremel stand, hook or a nail if you want to hang it up. This is particularly useful not only for storage, but also if used with the Dremel Flex Shaft attachment.
Pencil Grip, comfortable hold
The unit is very comfortable to hold and can be gripped as you would a pencil for fine intricate work, particularly if you have the flex shaft attachment. For fine engraving and carving work, this is a really comfortable way to work.
Who can use the Dremel 3000?
I highly recommend this model for hobbyists and beginner jewellers, beginner glass engravers, those wishing to carve stone, drill holes in beach pebbles, sea glass, beach pottery, broken china, wood carvers....the list is endless. Great for DIY bits around the home and general craft work.
Another great advantage of the 3000 model is that when used with a Dremel Multi Chuck it is compatible with a wide range of bits, burrs and polishers, unlike the Dremel 290 engraver which is not. Read more about the Multi Chuck further on in the article, but suffice to say this little Dremel attachment is an essential piece of kit.
Voltage and Plug
One last thing here before you purchase, and it may seem obvious, but do look out for the correct voltage and correct plug for the country you live in.
Changing Accessories on your Dremel Tool
Changing accessories is really simple. Make sure that the unit is not switched on and that it has stopped rotating. Press the spindle lock (the blue button), this will lock the spindle from rotating. Pop your accessory into the end. Keep the button pressed and tighten the accessory in towards yourself. Release the button. Make sure that it rotates freely.
The spindle lock unscrews and you can use this threaded connector at the end for attaching different accessories such as the Dremel Right Angle Attachment, Dremel Multi Chuck and Dremel Flex Shaft.
Advantages of the Dremel Multi Chuck
If you use your Dremel drill for various applications and will be changing Dremel bits and Dremel attachments many times then you will benefit greatly from making the small purchase of a Dremel Multi Chuck. This chuck will allow you to hold lots of different attachments with many different shanks (the shank is the bit that fits into your Dremel Multi Tool) and it makes changing your accessories super easy. You won't have to change collets every time you use a drill bit or attachment that has a different shank for instance.
The Dremel Multi Chuck works with most models except the Dremel Engraver 490.
The above picture shows the following:
Using Your Dremel Rotary Tool
Whatever attachment you choose to use you should always start your Dremel drill off slow and build up to the speed that you want to work at.
Dremel Bits and Dremel Attachments that come with your Dremel 3000 kit:
Black nylon bristle brush
This Black Wheel Bristle Brush is really good for cleaning, and If you use polishing compound with it you can use these for polishing. These are particularly great to use on intricate pieces of jewellery as it gets into all the difficult to reach areas.
Sanding discs
These little Sanding Drums are great for removing rust, paint, heavy corrosion on metal, or for sanding and shaping wood, plastics and softer materials. They slide onto a mandrel and can be fitted on snugly by tightening the screw at the end with a screwdriver (you will have received one of these in your kit with the Dremel).

The kit comes with a couple of different grades of sandpaper sanding drums, but I recommend purchasing a couple of the rubber mandrels and then you can have them set up in different grades of sandpaper without having to change the grits every time.
Abrasive Discs and Cutting Wheels
The cut off discs are hard, brittle abrasive discs. You can use these for cutting off the top of screw heads, nails, or working with things like minerals and plastics. Also supplied is the mandrel that these are designed to fit onto. When you attach the disc to the mandrel be sure not to over tighten it because these discs are very brittle and will snap easily.
By purchasing different types of cutting discs or wheels you will be able to cut through a variety of materials.
Abrasive Stone
In this kit you receive a very coarse orange abrasive stone. These stone burrs come in a vast assortment of different colours, sizes, grades, and different materials such as green carbide stone burrs and White Arkansas stone burrs and Pink Grinding Stone Burrs.
These are good for grinding and carving on harder materials like metal, ceramic, glass or even minerals and lapidary work on gem stones. I use the green silicon carbide stones a lot for shaping and filing silver and gold, and the Arkansas stones for smoothing metals. They are also very good for sharpening things.
Felt polishing pads
These are designed to be used with polishing compounds or diamond paste. The felt pads that come with your Dremel Tools attach to a little screw mandrel. I would recommend once these have run out to purchase mounted felt points as they are more robust. Other similar items you can try are a cotton buff or a calico wheel.
Drilling with your Dremel Rotary Tool
Inside your kit you will find a steel drill bit that can be used on soft metals, wood and plastics.
The below image shows the Dremel 3000 with a Bottle Neck Diamond Core Drill. For these core drills and other diamond drill bits see our complete range here.
As I mentioned earlier, drill bits can be mounted on different sized shanks so if you're looking to use your Dremel for drilling holes or drilling out a core you might want to invest in a Dremel Multi Chuck or Collet Nut Kit.
For more detailed information on how to drill using your Dremel Rotary tools have a read of a couple of our articles such as 'How to Drill Sea Glass', 'How to Drill Pebbles' and 4 Tips for Polishing Metals with your Dremel Rotary Tool
---


So there you have it, the Dremel 3000 and all it's uses, along with a few of the accessories that come with it.
Why buy a Dremel Drill?
They are comfortable in your hand, well balanced and smooth. They don't rattle and vibrate, and the quality is superb. Yours should last you for years!
Dremel Accessories
You will be astounded at some of the Dremel accessories that you can buy to fit into your tool. Apart from those mentioned above there are many polishing abrasives, drills, burrs, stones, brushes, pads, silicone polishers, rubber burs and discs that will all fit into your new Dremel Multi tool, such as:
So whatever project you are doing and whatever material you are working with there is a burr or a tool that you can use with your new found friend, the fantastic Dremel 3000.

This is just an introduction to what this tool can do, pick up yours and get experimenting!