These examples of Glass Engraving have been sent in to us here at Eternal Tools by you, the customer, showing us how you've used our tools. We love receiving images of your work and thought we'd showcase them here in the hope that this will inspire others to try their hand at glass engraving.
If you're a beginner and looking for guidance, there are some helpful links at the bottom of this article along with a list of tools you might use and links to the Guild of Glass Engravers where you can find courses, learn more about the different techniques and see more inspirational glass art.
#1. Nancy Sutcliffe. Giraffe

"After engraving the 'fur' I was able to polish out the grey and black tones to form the pattern on this giraffe using a dot of polishing paste and my new mini felt polishing cone. The size of the cone meant I could be more precise and didn't have to re-work too much of the lighter background afterwards" - Nancy Sutcliffe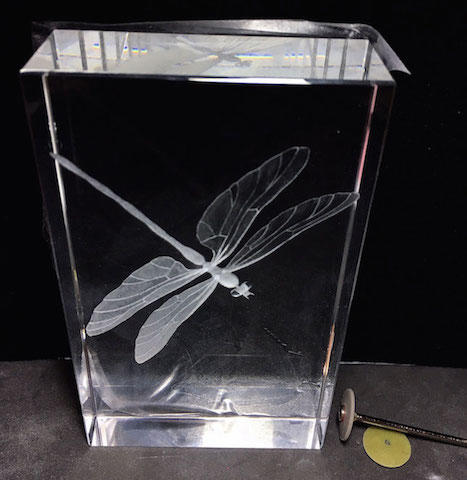 The above dragonfly image by Nancy shows the difference between the polished darker wings and the unpolished, using a grey (fine) EVE Pumice Polishing Disc and a White Arkansas Stone Burr.
"I like the slim profile and small diameter of the Pumice disc very much, so much easier for precision work, and a bonus is that it does not leave a bloom on the surrounding clear glass if you slip over the edge. It does warm up and begin to leave a residue if used too fast, which is usual, but it's effective at slower speeds and the residue brushes off" - Nancy Sutcliffe
Take a look at more of Nancy's work at https://www.facebook.com/NancySutcliffeGlassEngraver
#2. Margot Jacobs Glass Engraving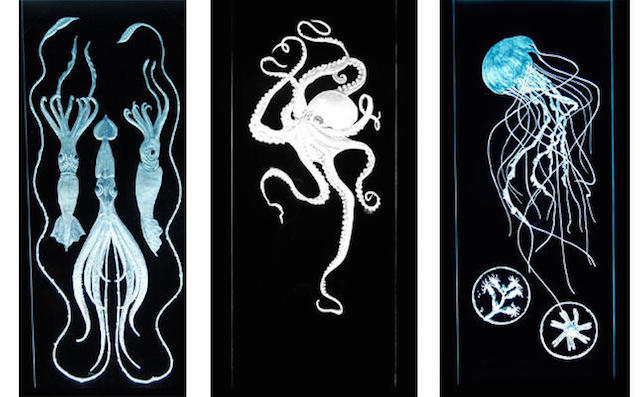 "I couldn't have carved these with any any other burrs but what I get from Eternal tools. Thanks ET for always stocking the best" - Margot Jacobs of Margot Jacobs Glass Engraving
#3. Graham Smith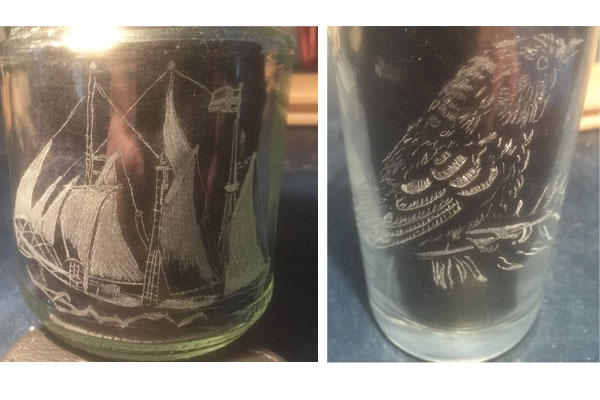 Graham used Diamond Point Burrs (Rat's Tails) for the above engraving of this bird.
#4. Susan Bloch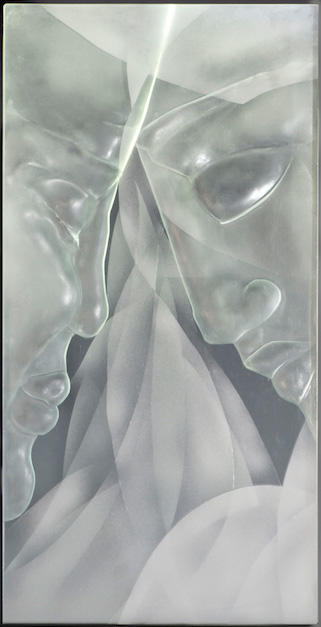 The above glass engraving by Susan Bloch is a piece sand-carved, engraved and worked with various polishers including the black Mini Rubber Silicone Polishers and Eveflex Brown Rubber Bullet Polishing Burr (not fire-polished).
"The brown polisher is a perfect shading tool. I like it's subtle clarity. I use it with the black bullet or alone. I like the way they are closely matched for shading. However the brown is better for many of my needs than the black because of its subtley"
"I found a lot of uses for it and am sure I will find many more. I was doing several pieces where I sandblasted and engraved the pieces. Then fire-polished them and after taking them out of the kiln - highlighted areas with light blasting and brought out highlights with the black bullet and the brown bullet" - Susan Bloch.com
#5. Shelley Wilson. Bellatron And The Wolf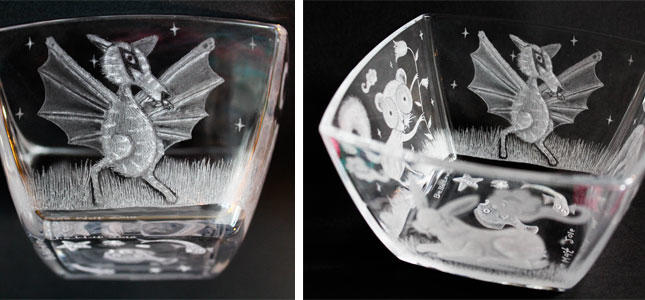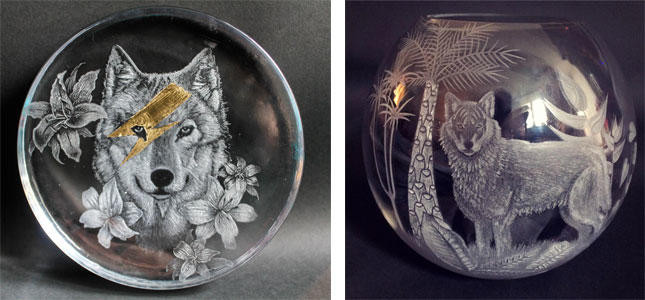 "I'm really enjoying using the various burrs and polishers - I'm a relative newbie to glass engraving. I discovered it through stumbling across an exhibition held by The Guild of Glass Engravers in Dorset whilst walking the dog last Easter and was hooked. I've subsequently joined the Guild which has been a great help and inspiration" - Shelley Wilson. Bellatron And The Wolf
#6. Vincent Pryor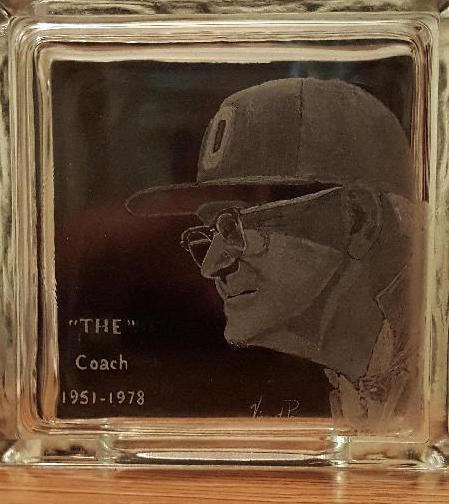 "The white Arkansas stone burrs exceeded my expectations. I am able to create a whole new level of depth and value while doing my glass engravings now" - Vincent Pryor
#7. Juan Carlos-Rodriguez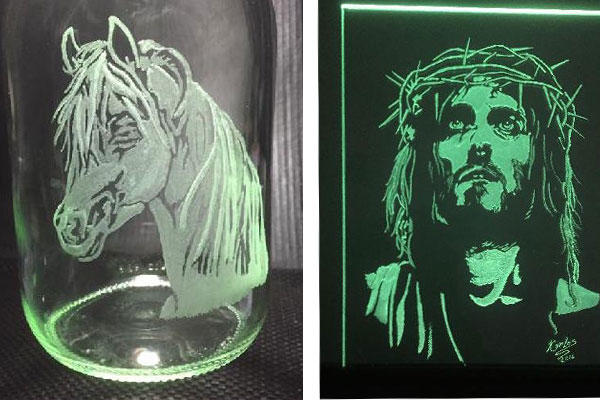 "I used diamond burrs for my carving on glass and for better, faster and smoother finish I use the silicon carbide green stone burrs" - Juan Carlos Rodriguez
#8. Rob Page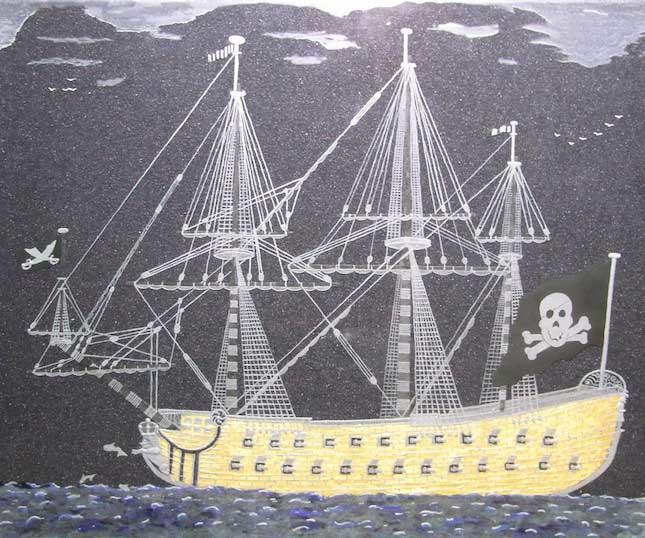 This shows what you can do with a few diamond burrs and a bit of paint! - Rob Page
----------------------------------------------------------------------------------------------------------------------------------------------
Helpful Links
Shop for your Glass Engraving Tools
Read this helpful article: 5 Essential Beginners Glass Engraving Tools
Join The Guild of Glass Engravers
Learn the the art of Glass Engraving at Richmond Adult Community Courses, West Dean College and Morley College
Get inspired on our Glass Engraving Pinterest Board