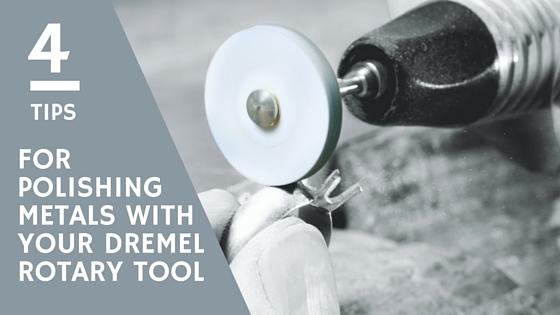 When polishing silver jewellery with my Dremel Rotary Tool or Dremel Flexible Shaft there are a few different tools that I like to use. I'm going to share my 4 tips on how to polish metals without fuss or mess! A few of my other favourite polishers and methods will be highlighted at the end too.
Mini Rubber Silicone Polishers
I have a variety of silicon polishers that I like to use for working on larger surface areas.
The first set of polishers I use come in a range of shapes: Wheel, Knife Edge, Cylinder and Bullet. They attach to dedicated mandrels so you can fit them into your Dremel Rotary Tool or similar.
You don't have to use any Dremel polishing compound or other compound or rouge such as Dialux with them so there is less mess. The 'magic' is encased in each polisher so they're ready to use as they are.
They come in a range of different grades of grit from coarse (White), medium (Black), fine (Blue) through to ultra-fine (Pink) and are to be used dry on a variety of materials:
precious metals, non-precious metals
glass
ceramics
acrylics
enamel
composite materials
synthetic materials
porcelain
And each colour refers to the type of finish you will achieve:
White - Coarse for quick removal of material.
Black - Medium for Pre-polish, removes scratches and leaves a smooth surface. Softer than white and more flexible.
Blue - Fine for high shine
Pink - Extra Fine for a super shiny, mirror finish look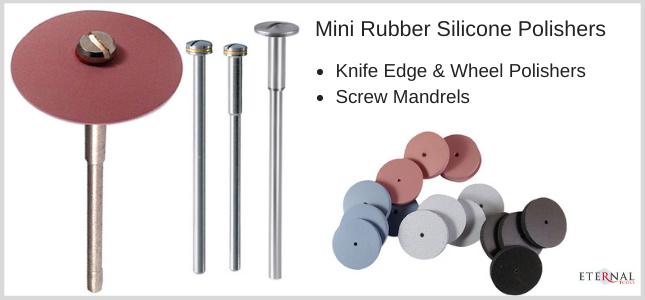 How to use the EVE Mini Rubber Silicone Polishers
I generally begin using white, then black, blue and finally pink. If the piece has some detailed or tricky-to-reach areas that need to be polished I will use a very small and flexible polisher such as the Silicone pin polishers, Eveflex flame, grey, green and yellow rubber polishers or EVE radial bristle discs. More about these other polishers further down the article.
1) Begin with the white polisher to remove any surface scratches
Essentially the grit of the white polisher has been designed for the removal of material so you want to be careful with this polisher. Keep your drill moving at all times to avoid fixating on any one area otherwise, you may end up with a groove where you don't want one!
Feel over your work for any sharp edges or extra solder. If all is good, rinse off and move onto the black polisher.
2) Use the black polisher to remove any remaining scratches and smooth over the surface
At this stage you will have a good shine, no surface scratches, and your work will be smoothed over nicely.
You'll notice a bit of dust coming off with these polishers so do wear safety goggles and a mask.
Again, rinse or wipe off after use.
Helpful note: The reason for wiping or washing off the dust after each polisher is so you don't leave any residue of the coarser grits on your work, otherwise you may end up adding extra surface marks as you're trying to polish them out.
If you have any tricky-to-reach areas or intricate parts of your work, this is when I move on to using the Silicone Pin Polishers, otherwise, continue on and use the blue polisher followed by the pink for the final mirror finish shine.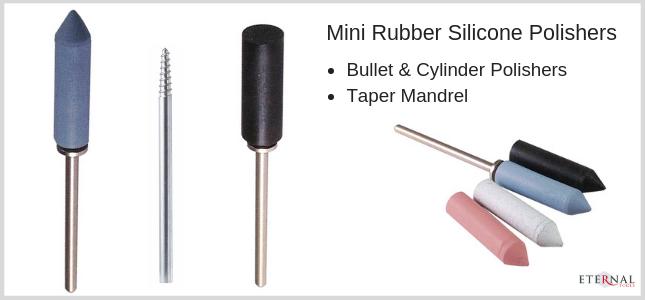 "The wheels with the knife edge are excellent for getting into very small areas and for cleaning up around appliqued bits on silver jewellery" - Philongold
Mini Rubber Silicone Pin Polishers
The silicon pin polishers come in a range of grits much like the previously mentioned polishers.
They can be filed down to a point with an emery or a diamond file, whatever you have to hand.
They are ready to use so you will not need any polishing compound.
Use them dry.
They are available in either 1mm or 3mm diameter. Push them into a dedicated pin mandrel then into your Dremel Rotary Tool.
There are 6 grades and each colour/grade refers to the type of finish you will achieve:

Brown - Medium, extra hard
Blue - Extra Coarse for quick removal of material
Grey - Coarse
Red - Medium for pre-polish and smoothing
Green - Fine for a super shine
Fawn - Extra Fine for a mirror finish look
How to Use the Rubber Silicone Pin Polishers
If the piece I'm working on is very small and very detailed then I could do the whole surface with these pin polishers (I also use the EVE Radial Twist Bristle discs or the small flame from the EVEflex Technic range - both mentioned below)
If you're using them alongside the Mini Rubber Silicone Polishers as mentioned previously then before using the Blue and Pink I use the polishing pins to clean up and polish any detailed areas of the work that I can't reach with the other silicone polishers. I'll start with the grey pin polisher if there is no solder or snags to be removed.
3) Use the Pin Polishers (or EVE twist radial Bristle discs) to clean up the detailed areas of your work before continuing with the Blue and Pink polishers
Again, always rinse and wipe off before changing the polishers to avoid leaving any residue from the previous polisher.
4) Now go back to the mini rubber silicone polishers, using the blue one and then finally the pink one over the whole piece.
You'll now have a super shiny, high gloss sheen to your finished piece of work.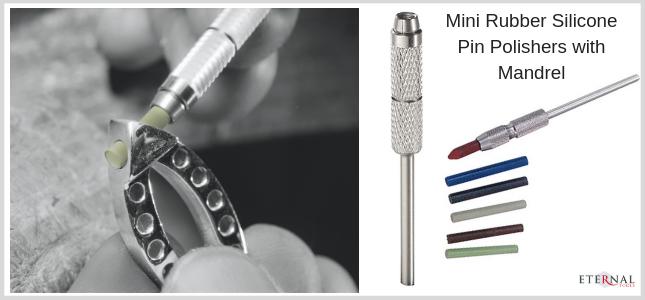 Helpful note: The whole pin is impregnated with grit so for larger flat surfaces, you might wish to pull a bit more of the pin out of the mandrel and use the side to give you a bit more flexibility. Alternatively, by shortening the pin, it will be more rigid and therefore allow you to use a bit more pressure on the tip.
"You'll wonder how you ever managed without them! Once you've found the grits that work best for you and the materials that you're working with, get a few packs of each grit and keep a good supply on hand. I definitely recommend getting a mandrel for each grit. That way you can just swap them quickly in and out of your Dremel Multi Chuck" - Dave Wilson, Celtic Dreams



The above 4 tips and polishers are always on my workbench. However, there are numerous others I like to use, here are some of them:
Eveflex Technik Rubber Polishers
Another superb set of polishers from the German company EVE is this range of mounted and unmounted rubber polishers for work on metal (and glass, acrylics and composites).
These polishers are made of a rubberized compound which is impregnated with silicon carbide abrasive particles, so this gives the advantage that they can be used dry and do not require any polishing compound, so hardly any mess or clean up. This makes them ideal for quick touch-up jobs and small detailed work, agaoin using them in your rotary tool.
Blue - #500 Very Coarse. For Chrome-Cobalt, Stainless Steel and other non-precious alloys
Dark Grey - #600 Coarse. Material removal and shaping on precious and non-precious metals
Brown- #700 Medium. Smoothing on precious and non-precious metals
Green- #800 Fine. High lustre polishing on precious and non-precious metals
Light Green- #900 Extra Fine. Super high lustre polishing on precious and non-precious metals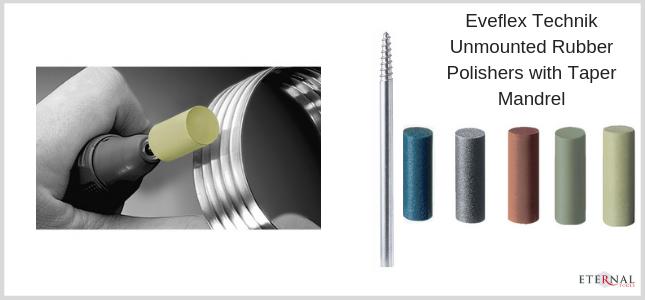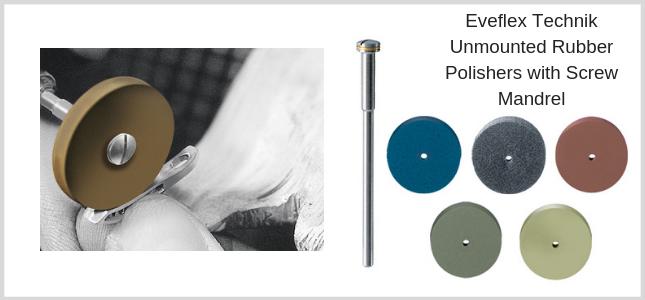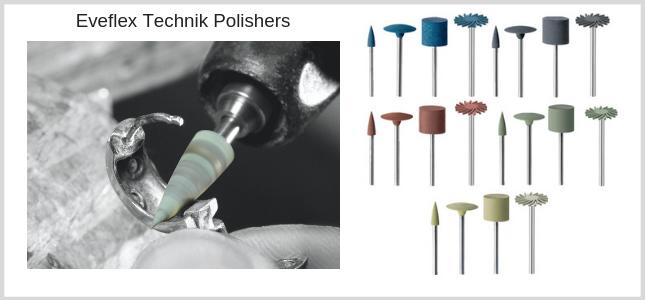 The mounted polishing burrs range in the above image is a personal favourite of mine. The large cylinder is ideal for polishing the inside of rings, bangles, and all large surface areas. The flame shape is essential - I use the pointed end for intricate polishing jobs - I don't know what I did before these came along!
These are already mounted so just pop them in your rotary tool, and away you go!
FLAME
4.3mm x 12mm
Ideal for hard-to-reach areas of work
KNIFE EDGE
14.5mm x 2.5mm
Ideal for inlays, edges and narrow channels, detailed work and soldered jump rings
LARGE CYLINDER
14mm x 12mm
Ideal for the inside of rings and large surface areas
TWIST
17mm x 1.6mm
Ideal for highly detailed areas of work
"Of all the Eveflex range, these Knife Edge polishers are definitely my personal favorite" - Dave Wilson. Jeweller. Celtic Dreams





EVE Chrom Plus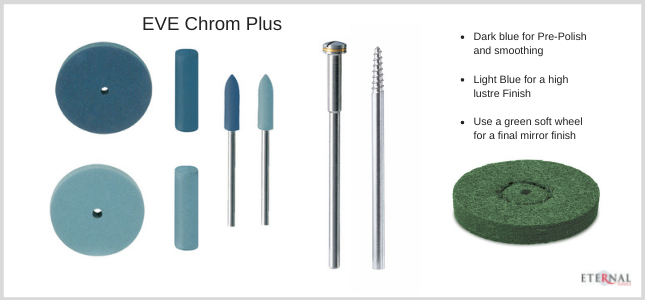 The EVE Chrom Plus range of polishers is specifically for use on the following materials:
Stainless steel
Titanium
Platinum
Nickel and Chrome alloys
Non-precious metals
With silicon carbide abrasive throughout, these polishers are for smoothing, removal of oxides and a high lustre polish on all of the above materials. Hard, yet flexible, and no additional paste is required.
There are two grades, and a small variety of shapes, mounted for quick use in your rotary tool and unmounted which you can attach to a mandrel:
Dark Blue - Medium. For pre-polish and smoothing.
Light Blue - Fine. For a high lustre polish
Use the Soft Wheel Green (see below the product) for a final mirror shine after using the dark blue first and then the light blue Chrom Plus polishers.
Soft Wheel Polishing Discs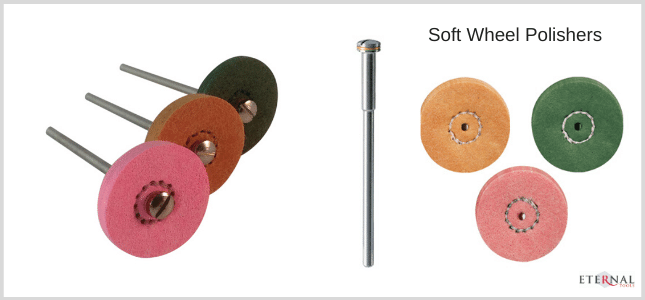 These little buffing wheels are slightly smaller than a 10-pence piece (and slightly larger than a dime) at 22mm.
Ideal for use in your rotary tool for polishing small-scale metal pieces of work such as jewellery, and they work an absolute treat! (Also great for polishing glass, stone and wood, and for the nail technician - the orange and pink are wonderful for polishing and high-lustre polishing on natural and synthetic nails)
There are three grades and it's best to use all three consecutively, working your way through from Green which is medium grit, then the fine Orange and finishing with the Pink, extra fine.
Using them in this way will result in different textures as you move through each polisher, so if you like the lustre that the green has left, stop there. Otherwise, move on to the orange and pink to leave you with a really nice sheen on your work.
Green - medium
Orange - fine
Pink - extra fine
They are made of cotton and impregnated with abrasive, aluminium oxide. There is no need for an additional polishing compound.
Attach them to a regular screw mandrel and fix them into your Dremel, pendant drill or flexible shaft, set the speed to between 5,000-7,000 and away you go!
Purchase your set of EVE Soft Wheel Polishing Discs here


EVEFLEX Twist Radial Bristle Polishing Discs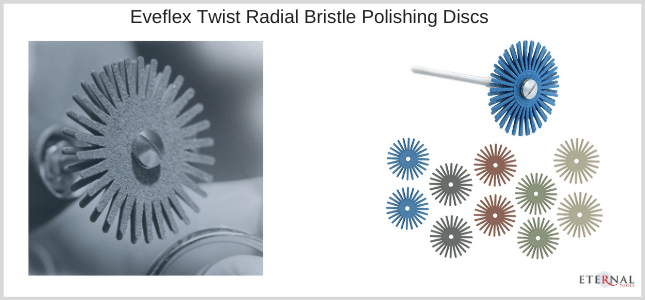 When polishing fine, intricate jewelry, you can spend longer cleaning off the polish than you do actually making or repairing. Wouldn't it be great if there was some way of polishing such items without making a mess? Here's where the radial bristle discs come into their own.
These contain an integrated abrasive meaning you don't need to use any polishing compound, such as jeweller's rouge or tripoli. Use them dry.
The discs are designed for use in a pendant drill or rotary tool, such as a Dremel. Simply stack 2 of the same grit discs on a screw mandrel making sure to face them the correct way.
There is a full range of five different grits, and each one is a specific colour.
I recommend a selection of three grits, a rough one for removing oxides (Blue or Dark Grey), a medium grit for further removal of light oxides and pre-polishing (Brown), and then a finer one for semi-finishing and blending (Green and Beige).
Helpful note: If you are working with set stones, gold or silver try the EVE Pumice Twist Radial Polishing Discs or EVE Pumice Polishing Discs. They will polish the settings without any damage to the stone.
Purchase a set of EVE Twist Radial Discs here
Similar to the above EVE disc polishers are from Scotch-Brite 3M. For a pre-polish to polish, work your way through the grades, beginning with the coarsest 80#, 120#, 220#, 400# and finally 600 grit being the finest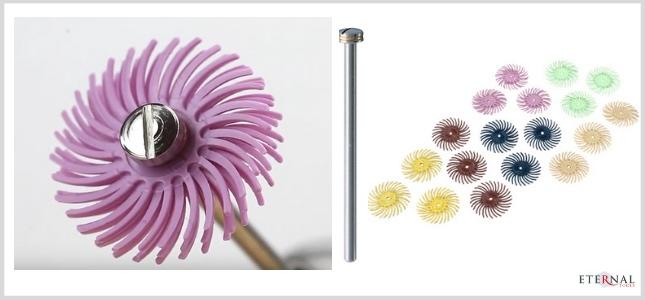 "Absolute godsend, these babies save me so much time when polishing up my silver metal clay pendants. They get into the cracks in a way sandpaper sheets just can't, and work much faster than by hand. Read the instructions first about how to put them together i.e. with bristles all facing the same way! - Kathryn Dawes



Diapol Diamond Polishers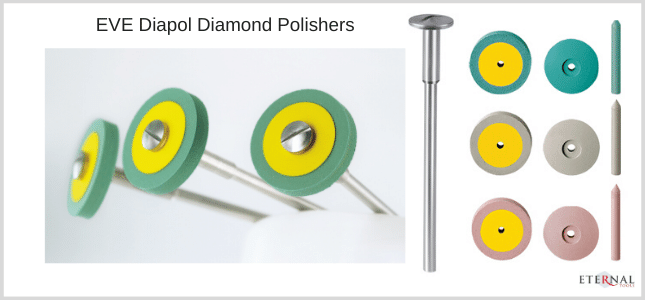 These spectacular polishers are impregnated with diamond grit making them a superior polisher for the following materials:
Platinum
Titanium
Hard Metals
Ceramics
Glass
Precious stone
They come in 3 grades and the best finish is achieved when they are used as a 3-step polishing system, starting with the green, followed by the grey, and finally the pink.
They come in 3 shapes: wheel, knife edge and pin.
These are the Creme De La Creme of polishers and will leave you with the perfect finish in a matter of seconds.
Green: Reducing, removing and shaping (Medium) approx. 35 microns
Grey: Smoothing and pre-polish (Fine) approx. 4-8 microns
Pink: High Lustre polishing(Extra Fine) approx. 1-2 microns
Helpful note: Regularly clean and dress your diamond-impregnated polishers using a Diamond Dressing Tool. This will expose a new layer of diamond grit to the surface of your polisher producing a sharper edge and removing any dirt and contaminants.
Take a closer look at the Diapol Diamond Polishers here
Airflex Polishing Wheels
The true advantage of the Airflex polishers is that they are heat-free, and cool-running. The buffing wheel has tiny air pockets interspersed throughout the polisher meaning they produce no heat and will stay cool, which in turn means they polish and grind quicker but produce no heat.
The Advantages of Heat-Free Polishers
They last longer as they don't degrade as quickly
They won't melt the metal so you can get more done in less time because you don't have to wait for the material and polisher to cool down.
Grinds material down quicker
Cool to the touch - no more burning your fingers on hot polishers or hot metal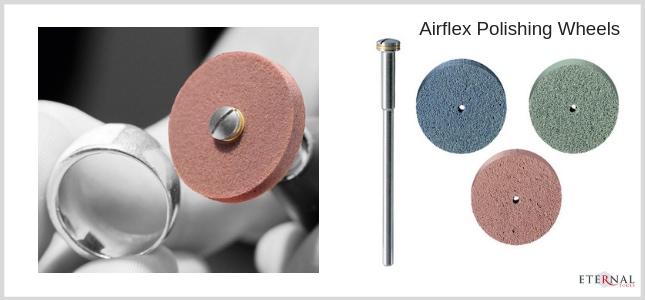 Take a closer look at the Airflex Polishing Wheels here


Grey, Green and Yellow Rubber Polishers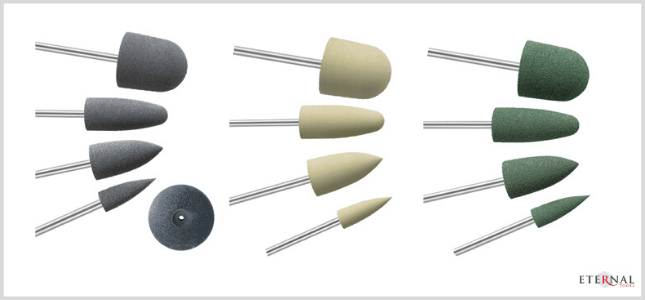 These rubber polishers help to smooth out the roughness of metals, particularly platinum, gold and Argentium silver. However, they can be used on all non-ferrous metals such as chrome, titanium, platinum, gold and silver, plus steel and stainless steel, resin, enamel, acrylics and glass.
They are mounted on a steel shank, except for the wheel shape which simply attaches to a screw mandrel, then into your Dremel rotary tool. Again, they come already impregnated with grit so you can use them dry, no need for any additional compound.
Mounted Brushes, buffing Wheels and Felt Points
There is a multitude of felt polishers, mops, cones, brushes and points that are mounted on steel shanks that you can pop into your Dremel rotary tool. It's good to have a selection of all the various polishers as some will be good for certain jobs.
Some of the essentials to add to your tool kit would be some felt polishers, some cotton buff mops, a black wheel bristle brush, calico wheel mops and some polishing compounds such as diamond polishing paste which work wonders on hard metals, or Dialux compounds as featured below.
Diamond Paste on silver
In recent tests, it has been found that using the 8 microns first, followed by the 3 microns and finishing with the 1 micron leaves a wonderful mirror finish to silver.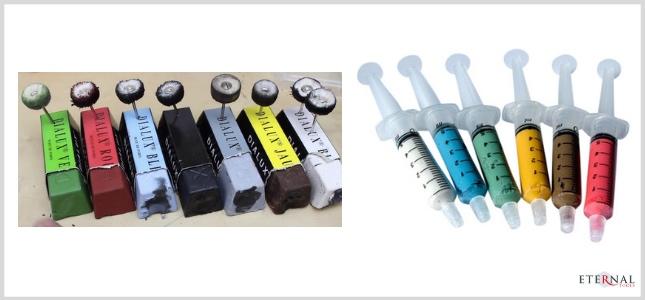 Dialux have a range of polishing compounds which replace the Tripoli and rouge of old as they create less mess and the quality is sublime!

Dialux Blanc/White - Silver, White Gold & Plastics. High lustre finish
Dialux Bleu/Blue - Gold & Silver. Removal of scratches, cleaning and a high lustre finish
Dialux Rouge/Red - Gold & Silver. High mirror finish
Dialux Vert/Green - Platinum, Stainless Steel & other hard white metals. Final polishing process
Dialux Gris/Grey - Stainless Steel & Platinum. Removal of marks and finishing
Dialux Jaune/Yellow - Non-ferrous metals (eg. Bronze and Tin) & Plastics. Removal of scratches and pre-polish
Dialux Black - Argentium Silver. Mirror finish
Dremel Multi Chuck
Just a little added note to say that if you don't already have a Dremel Multi Chuck, then it's worth purchasing one.
The Dremel Multi Chuck makes changing polishers and attachments super easy.
There's no need to worry about what size shank the polisher has, and unlike the Dremel Collet Nut Kit, you won't have to keep changing collets all the time. In my kit, this simple attachment is an essential item and I have one attached to my Dremel 3000 and another to my Dremel Flexible Shaft at all times. They are made with the intention of only fitting Dremel models so you'll have to find out if there is a similar adjustable chuck for your specific rotary tool.
Take a closer look at the Dremel Multi Chuck here
Safety tips when using rotary tool polishers
Please always wear good eye protection, a dust mask and ensure you have on a long-sleeved top (no draping sleeves though!) and an apron when using any of the above products. Wearing finger tape will help protect your fingers and nails from dirt, cuts and scrapes when sanding polishing, and buffing.
---
I hope you've enjoyed my 4 top tips for polishing your metal jewellery without fuss and without mess.